We live a few kilometers from Hinton, Alberta. A few years ago I was driving along our ranch property one morning and on the other side of the buffalo wire fence I could see the legs of our donkey sticking up in the air. It looked like it had somehow got stuck upside down in a narrow ditch that was there.
I walked to the donkey and before I got to him I saw a very neat gut pile sitting a ways off to the side. The donkey's innards had been removed so neatly it was as if someone who knew what they were doing had used a scalpel, the cuts were so sharp and exact. It was amazing, really.
My first thought was that I must have been a cougar. There was not much I could do so I dug a hole with my small track hoe then went over to the donkey. As I was hooking up his legs to a chain to drag it away, I saw it
– a big grizzly paw print.
This was really sad for us. I knew our donkey would have gone right at him. He protected our property, he was part of life here. I thought that no matter what, the donkey had to be buried. I called the local Fish and Wildlife and the head guy came out with a rifle. We looked around and walked off to where we thought the bear had headed too – some really thick willows that were on our side of the square wire buffalo fence. I thought, ok, that bear is still close, probably on this side of the fence because he can't just walk through it. We started walking through the thick stuff and I said, "I don't feel comfortable doing this, this is a far as I want to go." He said I was welcome to go ahead and get my gun. Truthfully, I did not want to be stuck in these willows and the bear charges us and I have to rely on someone else's shooting to save us. I turned around and headed back, and the officer did too.
Later that day four or five Fish and Wildlife officials set up three or so leg hold
traps and one catch barrel. The next morning I went out and found that two of the leg hold traps had been closed, and in the barrel was the bear! Two officers came out right away. They had a close look at the bear and determined its history. I can't remember the exact details, but it was something like this:
It was causing trouble in Banff National Park, so it was relocated somewhere
around Pincher Creek. In that area it had killed twice more, at least. Surprisingly, it had killed two more donkeys. The bear was trapped there again, more than once, if I recall, and then eventually released in the Grande Cache area north of Hinton. And now they discussed what to do with the bear. The one officer asked me what I thought, if I thought it should be released again. I think he thought it was time to put the bear down. They discussed it. Decided to put it down. When the gate was opened I looked inside and he was calm as ever, like a big relaxed dog. My impression was that it was an old drill, been there and done that before. I think some would have felt sorry for the bear. But over the years, I our area and up towards Grand Cache, there have been 4 or 5 maulings, or more, some very
critical. I remember, on the street where my dad lived, there was an elderly man that who had a large chunk taken out of his side, made him look and move very oddly.
The image provided is the actual bear who killed the donkey as I put up some trail cameras near the trap, the evening before he was caught.
Dave Tocher, Hinton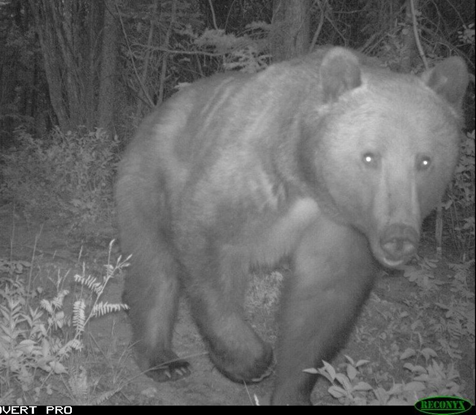 This story does bring up some very interesting questions, and concerns:
1. How often are bears actually relocated in each province?
2. Where are they located to?
3. Are local residents told of a bear relocated to their vicinity and told what
that bear actually did - its history?
4. Could wildlife officers actually discuss the bear caught in a bear trap, that
had killed personal livestock a few times already, and decide whether or
not to shoot it without following specific protocol? What are the parameters
required by law before making that decision? Or are there any at all?
5. Who is paying for this? Was this bear really re-located From Pincher
Creek all the way up to Grande Cache? Is that acceptable to the majority of
tax payers? Is the money from public taxes, taken from wildlife
enhancement funds? Or what?
6. Do the residents nearest where the bear is located to, and from, have
any say on whether it happens at all?
Lots of questions here, eh? What are your thoughts?