TRAIL RIDING
THE MOST COMPLETE BOOK ON TRAIL RIDING, PACKING, AND TRAINING EVER WRITTEN - GUARANTEED!
More Than 450 "How To" Photographs on Training Horses, Horsemanship, Hitches, Knots, Riding, Packing, Gear, Technique, and Camping. Methods From Across the USA and Canada.
A Library of Information Including:
Buying the right horse or mule, Training the trail riding or pack horse, Riding and pack gear, Packing horses and mules, Knots, Trail tip's, Safety, Wrangling, Caring for horses, Shoeing, Problem solving, Camping, And more!
This book represents many years and many minds worth of experience. It is loaded with valuable information for the trail rider, packer, back country traveller, and those interested in training trail horses. Hundreds of tips, techniques, and facts. Tried, tested, true, and innovative. Some never before in print.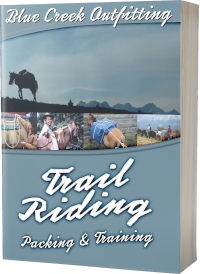 Glossy Laminate Softcover, 8.5x11 inches, 285 pages, 450+ B&W photos
"I am reading your new book, Trail Riding, Packing, and Training. Having owned horses and operated Trail Rides, Sleigh and Wagon Rides for several years, I have found this book to be the most interesting, informative, in depth, easy to read and understand. I have attended several Horsemanship, Reining and Packing clinics and this book makes it clear and worthwhile. Truly enjoyable. Thank you!"

Charles Broad, Mackenzie
"I have a number of Packing books including Horse Packing in Pictures, Packing in With Mules and the Joe Back book. Yours is the one I use the most. Its more complete and has more useful information. It is also very easy to understand."

Monty Rasmussen, Cardston, Alberta
"Very well written and informative book for all levels of Riders, from beginners to 'seasoned packers'. In the short time in our store, it has become a very strong seller, in our top three publications. I certainly recommend this book."

James, The Boot Shop, Edson, Alberta
"It was with real pleasure that I read your book, Trail Riding, Packing, and Training. I grew up on a ranch all my life and to this day we use horses to work cattle, hunt, and just plain ride for the enjoyment. We just began packing horses and going to the backcountry a couple years ago. This book gave me helpful hints and a greater understanding of packing horses. It is clear, concise, and well written. Instructions were easy to follow and pictures exceptionally clear. I strongly recommend this book. Keep up the great work."

Rodger Peterson, Peterson Ranches
"Your Blue Creek Book is an excellent book for beginners to the advanced rider. Customers are extremely impressed with it. Our staff recommends this book a lot."

Carmelita, Spruce Capital feeds
"It has been a really good book for us for both novice and experienced riders. You need to take this book along on your next trip."

Bob Hickman, Hickman Saddlery
Stan this book is the best selling Pack book we have ever had in our stores. If you are heading out on the trails this book is a must have.

Bob Welsh, Welsh's Saddlery
"You really nailed this, just has everything in there a guy needs to know about trail riding and packing. We go into the mountains a couple times a year and in the past I learned from Joe Backs book is better, clear photos and easy to follow."

James Potter, Delburne, Alberta
"I really like your book. It is very well written and easy to understand. I have worked with horses all my life, training many, and have taken several mountain trips, it was good reading and still learned many good tips. Thanks for the book."

Ray Commanduer, Mayerthorpe, Alberta
"A best seller for us, the pictures and design are excellent. A practical and informative book. It's about time!"

Dawna, Jensen's Western Store
"Your book is full of very good and important information. I make sure everyone who buys packing gear from me leaves with a copy."

Ken, KC Saddlery, Red Deer, Alberta
Many of our customers enjoy going to the mountains and use it as a resource. An excellent book and we'll keep it stocked for our trail riding enthusiasts.

Michelle Treacy, Country Junction Co-op