HORRIBILIS
READING IT IS LIVING IT – TRUE TO LIFE DRAMA
Everyone knows loveable bears. We grew up with them in books, on TV, and in the movies. But there are other truths about bears, other stories that need to be told. Unforgettable stories – This Story
Horribilis is a story about aging game warden Tom Beck, his family, and a Grizzly Bear. It is a dramatic and personal story about confrontation between man and bear. It is a reflection of human/bear conflict in our present society. In this striking novel Stan Walchuk Jr. brings home the reality of bears in our outdoor lives, our yards, and our homes. Horribilis is not an anti-bear story, but it is a wake-up call. A captivating novel that will take you into deep into the lives of people and bears, hard realities more likely now than at any time since early explorers.
The Grizzly Bear's Science (Latin) Name: Ursus arctos horribilis – The Horrible Bear – Named by Early American Explorer's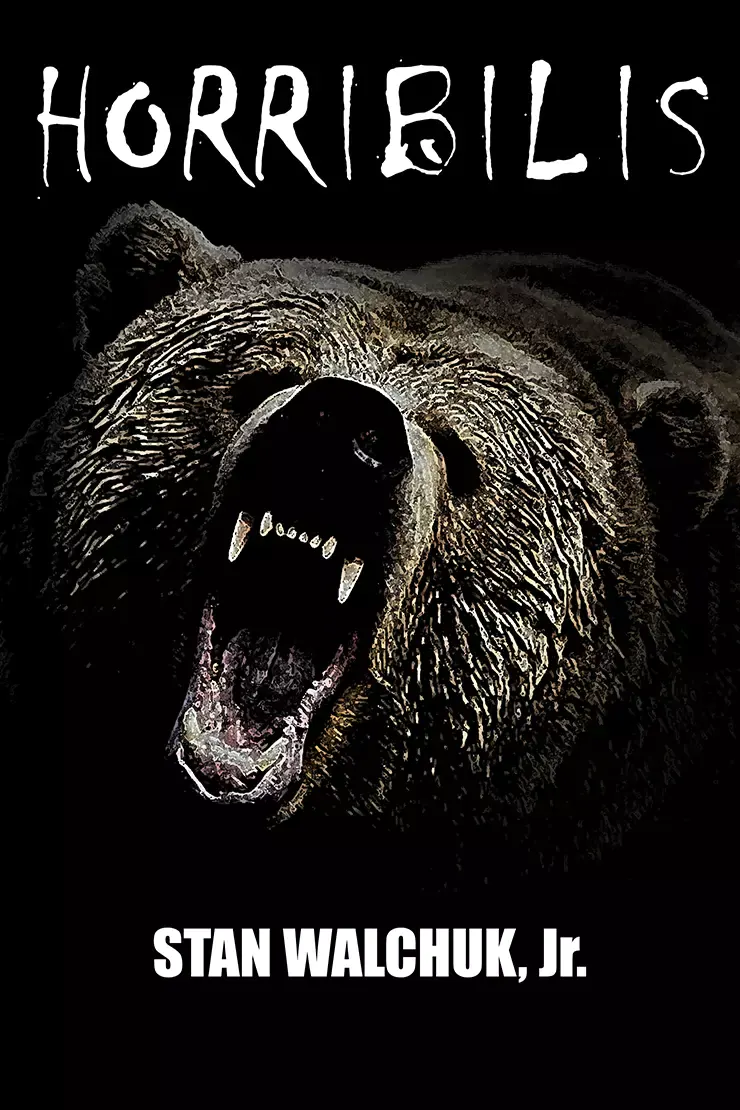 Glossy Laminate Softcover, 5.5x8.5 inches, 307 pages
eBooks are provided in PDF format. Kindle and Kobo coming soon.
Horribillis - Book Preview

'A hitch, his feet stumble, the thought of where he ran to a reality beyond fathoming. Screams. Ellie. His run forced momentarily, then full on, please, please…. soundless screams in his own horrified mind, feet pounding over the soft moss. The bear preoccupied, dragging, hauling.

He leaped for the bear's back and at that moment the realization of its enormity a blow against all hope. He landed full on the immense muscularity of taut spring steel, one arm grappled around the neck, the other a balled fist pounded again and again against the massive skull, a miniscule act of futility. The great bear roared, spun, incredibly lithe for its size. The boy tossed, a loud grunt as air slammed from lungs as he hit the ground. The great jaws clenched on his neck. Windpipe crushed, he twisted, his screams muffled, the bears hold adjusted, let go, then bit his head.

Stunned, then a surge of panic his arms flailed and fists pounded again and again against the bear. His head in a grip, his face slathered in saliva, teeth and tongue all he feels, black all he sees. Rancid breath, the sound of dog's teeth grinding bone, knows it is his own skull. Push, push, push, his mind cries out, but his arms now dead to him. Feels the tearing of flesh on his face. A warm feeling. Wet. Aware of fading, willing himself to stay conscious.

Luke's grunt as he hit the ground a battle cry. Ellie half out of the blood-soaked bag she surged forward, her right hand clamped on the knife. Fear transformed to adrenaline, the flame to fight instantaneous, mankind's eternal fight for survival, womankind's fight for survival, motherhood's fight for life and eternity. Her knees scrambled forward against the huge bulk of the bear and she drove home the blade, once, twice, the roar of the bear as it spun full circle, the knife knocked from her grip, her hand dove to the dirt for the knife and her hand locked on to something firm and she squeezed, but it was not the knife. It squeezed back.'
Just a quick note to let you know how enthralled I was with your new book. First of all I should say that my background is in editing, I formerly edited for Canadian Network Broadcasting as an advertising editor. So, when I read I have a tendency to keep one eye on the story and one eye open for editing – just a habit. Well, I was so involved with the story, especially the battles with the bear, that I forgot all about everything else. I was totally captivated. Also, what surprised me was how interesting were the sections when the story was told through the bears eyes, from his perspective. I never knew that much about bears. Those were my favourite parts of the book. Loved it. Thankyou.
Bobby-Jo, Kelowna, BC
I just finished the Horribilis novel and I have to say it was fantastic! I read it in three sittings of three to four hours each and had a very hard time putting it down. The bear chase scenes were pulse pounding and totally riveting. One of the most exciting books I have read for a long, long, time. The descriptions of the landscapes and the animals were simply superb! This summer I got hooked on Stephen King and read the complete Dark Tower Series starting with The Gunslinger and ending with the Dark Tower V. Then I read 5 or six more of his. I also read a ton of Lee Child's Jack Reacher books. I am kind of an adrenaline junkie with most of my reading and I can tell you, Horribilis is right there. It really got me hyped! Will make a fantastic movie or miniseries! Thanks so much,
Tim Troutman, La Grande, Oregon
This is a very well written book. Stan Walchuk Jr is very clever, a natural writer. Even though I am not familiar with the subject matter the passages held me, they were very vivid, his writing is very visual. I did read his book 'Common Man, Uncommon Life' and just like that book he writes with a natural sense of humour. It can be serious situation and then the humour is just suddenly there. I read a lot. During six months of covid I read over 40 books, and I have never really experienced a book like this. Excellent writing. I love it, love it.
Valdine, Calgary, Alberta
What an excellent read. I truly enjoyed reading this novel. Not only a good read, it illustrates the issues that British Columbia and other places are facing with poor game management and an influx of large predators. I hunt northern BC and have to contend with these large bears each year. Stan's experience in the wilds and his writing ability gave me vivid images, brought me right into the action. I could almost feel the bears hot breath on me. This book will help with an understanding of how dangerous these large powerful bears are. Well done.
Clinton Jacques, Terrace BC
I really enjoyed Horribilis. A definite page turner, lots of action, didn't want to put it down. Gritty with the dogs and the bear chase. I really like how the book fitted in some facts and realities of our present bear situation.
Luke Hodgson, Water Valley, Alberta

Very interesting to read about people who live so close to wilderness and wild animals.
I enjoyed Stan's writing style and was captivated especially by the second half of the book.

Wendy, BC
This book surprised me. I have a connection with the wilderness being a long- time guides school instructor, and also an experienced educator, having taught college level for many years. I was very impressed with the writing, the book really works at every level, it's a full circle novel, a great last two chapters. I liked how real the story was, how it gave the bears side of the story. Really, it felt movie script ready. I plan to use Horribilis as my reader for some online teaching I am doing with young teens. Thank you for this.
Bob Silverthorne, Wetaskiwin, Alberta.

I liked everything about this book. Having spent times of my life in the wilderness, and also in remote places as a war correspondent, I had a connection to the story and the descriptions. I can see where some readers might consider the story controversial, with how it portrays the animal rights group, the two characters in that group. But I can tell you it is not far off the mark. I spent time in my youth on the Green Peace ship, the Rainbow Warrior, and I can say that Peter Willcox, the captain, had an ego as big as the seas, so its not far off the mark.

Steve, La Manzanilla, Mexico
I'm only halfway through Horribilis but I wanted to say it's a real page turner. I grew up on a farm with no TV so I began reading at an early age – I've read thousands of books. This book is authentic, its as real as they get, it pulls you in. You feel like your right in there. I have a hard time with some of the classics, they sit on the shelf unread because you get bogged down with the reading. This book flows, its visual, keeps you flipping pages. Good stuff!
Vern Slonowski, St Paul, Alberta

Horribilis is Stan Walchuk's best work so far. It really kept me reading, kept me wanting to read more.
Jane Ruttle, Toronto, Ontario

Hi. I started reading Horribilis and all other things had to be put aside. That's coming from a retired soldier who's reading has been mostly technical, historical, or biography. This book rejuvenated my faith in novels. The characters were well presented and were meaningful right to the end. I liked the way the bear transitioned from the beginning to the end, how he became the dangerous bear he was. Really good messages in the story about the way things really are. I expected more of an anti-bear story but gained a better understanding of bears. Inspite of what happened in the story, it did not make me feel like stopping my trips into the woods, unlike JAWS that had thousands of people never swimming in the ocean again!
Chuck Lawrence, Owen Sound, Ontario
The book is brilliant! I can't say enough superlatives. The plot is fast-moving, compelling, and believable. There are just enough side-plots and interconnected loops to keep the reader interested and guessing. The thick description excels, such vivid and authentic descriptions of BC forests and mountains, dogs, people and wildlife. Frankly, the dialogue is miraculous. Unbelievable, actually, for a first novel. I have written many papers and books during my career. I taught at McGill University and have a Phd. in Education from Harvard. This book is superbly edited resulting in an appropriate balance among the various parts of the tale. I was a fan of Stan Walchuk Jr. after reading his Cordillera! And Common Man books, but this is really something else. An uncanny power of observation. Like I said, I can't say enough superlatives. What a waste of the last thirty years that he did not write novels!

Gary Anderson, Gray River, New Brunswick
I finished Horribilis this weekend. What a great read. Exactly the type of story I enjoy most. I could relate certain parts to real life stories. I'll be honest, I couldn't put it down.
Cheers,
Sam Lehto, Calgary, Alberta