COMMON MAN, UNCOMMON LIFE
AN UNFORGETTABLE BIOGRAPHY
Grizzly bear charges, swept down rivers, bigfoot, brawls, lost on ice, lost in love, horses over remote and rugged mountain passes, and so much more. A life full of incredible hardships and joys.
It is a biography of a person chosen for adventure, no one could have set out from early childhood to live literally over a hundred wilderness journeys. Like a loving mother and a mad dog, adventure has filled the lonely void in Stan Walchuk Jr's life, and chased him down city streets, over country roads, down rivers, through mountain passes.

It begins normal enough, a child raised in a typical city neighborhood. But from the time he could walk the colorful thread that wove the fabric that is his life was adventure – one wild, hilarious or hair raising episode after another. This biography is written with a story teller's voice that is at moments sensitive, at other times strong, but always distinct. Vivid prose so that readers see and live these adventures as if through their own eyes. Head on and face to face the serenity, drama, and cruelty of adventure.

What you will ask yourself after reading this amazing biography is what every reviewer and reader asks themselves - "How is it possible this person is still alive!"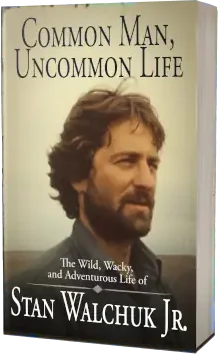 Common Man, Uncommon Life - Book Preview

Instant terror.

Animal explosion. Sounds blasting, insane noises from an unknown living thing. Here, there, and over there, and back here again. Not one sound, many sounds, rage, lunacy, terror, in surround sound...

…WOOF,WOOF,WOOF…ROAARRRRRR…GGRRRRAAAAAUUUEEEEEE…MEOWWWWW…BABY CRYING…WHISTLE, WHISTLE, WHISTLE. PAUSE. ALL OVER AGAIN, BARKING…LIONS ROAR...ROAARRRR…Impossibly loud and insane…ALL AGAIN, AGAIN, AGAIN…

My body frozen but my head jerks, over there, no over there, coming at me, the gun! Get the gun! I'm dead, I'm dead. I'm not dead. Pack tossed, body falling to the muddy dirt, feeling of my toque pushed off my head from hair standing on end. I'm going to die, please God let me get my gun, in a flash my hand is in the case and on the pistol grip, gun flies out of the case, lining caught on the front sight comes out like a sock inside out, Whack! Back stock hits a tree, gun stock butt snaps off, gun held like a pistol, right hand flips a live round in the chamber.

My God, I am still alive, gun points to what is charging, barrel moving to shoot, shoot, shoot! Can't see it! Can't shoot! Bushes moving. C'mon, show yourself, step out you bastard! I'm not going down without a fight!

BARKS, ROARS, SCREAMS, CRIES, WHISTLES, AGAIN, AND AGAIN, How many are there? Two, three, four, more…

I am vulnerable, exposed on the trail. Don't make it easy. I dive into a clump of three or four small spruce, dead lower branches tear at me. I am inside, tree trunks and branches will buy me seconds when it tries to get me, now you want me come and get me, I'm going to get a shot into you…

AGAIN.

OVER HERE, CLOSER NOW, IN THE WILLOWS, AGAIN, OVER THERE, STILL IN THE TREES, gun barrel waving, scanning, searching, trigger finger twitching at bushes, movement, coming closer but always a tree, a bush, in between, can't see it, c'mon you bastard, show me hair, something!......
"Common Man, Uncommon Life is philosophical, compelling, and hilarious. At one level it is a commentary on life – riding with Stan in trackless wilderness, the deep dilemmas about life. But after travelling over mountain peaks and descending into nameless canyons, the commentary emerges engraved on pages to be savored and shared. It is about values, that more is not necessarily better; the discovery that people are more important than things; the revelation that standing for principles can be life's supreme driver and motivator. It is about a boy's coming of age, an outdoor journey of discovery bereft of iPads and computers. Simple times filled with human drama, well intentioned but high risk adventures – Huckleberry Finn lived out in the parklands and mountain wilderness. These are stories of raw emotion capturing feelings and uncertainties that we have all experienced, and expressed poignantly as only Stan can recount. There are also stories of triumph, of man overcoming the toughest of nature's conditions, and of Stan achieving milestones that no one else ever has."

Gary Anderson, New Brunswick
"We just couldn't stop reading this book, immediately drawn into the stories of childhood, the later years, and most of all the horse adventures. Full of intriguing encounters, a kaleidoscope of experiences some having your adrenaline coursing, others showing the deep bond and closeness to nature while on the trail. You only wish you could be there yourself!"

Jana and Rahel Goetz, Munchen, Germany
"I did not expect that an autobiography of this type could be so intriguing, even riveting at times, I couldn't stop reading it"

Dominique Caron, Bellevue, Alberta
"This is story telling at its finest. The way it is written I felt like I was right there for each adventure. That is based on one man is remarkable. The book could have as easily been titled, "LIVING ON TH EDGE" or "LUCKY TO BE ALIVE"."

Milt Gilmore, Jasper, Alberta
"What a life packed full of adventure, every new chapter is another journey that left me wanting for more and more. Stan is a great writer and story teller."

Eric Jensen, Edmonton, Alberta
"This book has to be one of the most honest and captivating biographies I've ever read. Stan's gifted ability to tell stories not only captivates you, but takes you to a whole different place. I couldn't put the book down! Truly a remarkable piece of art written by an incredible man!"

Danielle Lomas, Adelaide, Australia
"I have read a lot of these kinds of books including Stan Walchuk Jr's book – CORDILLERA! I was wondering, where is he going to take me now? Wow!!! I was not disappointed. This is a journey you don't want to miss. A gold mine of personal experiences. Common Man/Uncommon Life ranks right up there with the best of them. Very revealing, a unique look into the life of a great adventurer. Vividly told from a life time of adventures and experiences, Stan Walchuk Jr is like a spider drawing you into the web and fabric of his life, and once there, you are hooked. Page after page is filled with never ending adventures both in the mountain wilderness and the exploits of everyday life. This is a book you will not tire of reading."

Paul Bonner, Camlachie, Ontario
I did not expect that an autobiography of this type could be so intriguing, even riveting at times, I couldn't stop reading it …. Dominique Caron, Bellevue, Alberta
This book can be opened at any page and just read. The stories have reflection and really touched me. I found I always imagined what I would do in these situations. I am not perfectly bilingual and could not understand everything but felt a deep respect for Mother Nature and it is fundamental for me. These stories encouraged me and gave me ideas for the wilderness. One must be lucky to find the right person. Stan is the right person.

Cecile Crivellaro, Brussels, Belgium
As an avid horseman and game guide I enjoy reading these types of books. I could really relate when the author shared his experiences and adventures. This book is a really good read.

Don Harris, Chetwyn, BC
Wonderful book! It is a very enjoyable read that captivates you from the beginning right through to the end. Reading about all of the wild and epic adventures inspires me to be more adventurous myself, and to explore my own backcountry here in New Zealand. I highly recommend this book.

Luke Evans, Palmerston, New Zealand
If you crave the cold-dreaded sensation of waking from a fitful sleep into the nightmare of a nocturnal creature, or the laugh out loud circumstances of coincidence and fate, this collection of stories has it all, something for everyone.

Erin Gunoff, Vernon, BC
I really appreciated the raw honesty, the questions, self evaluations, motivation for the passion for life. I was transported right into the action so that I was there watching the action unfold. Walchuk has a real storytellers gift. A compelling read, did not want to put it down!

Sharon Low, Peace River, Alberta
These stories are each and every one a gem, an easy Sunday morning read with a cup of coffee. There is a heart touching honesty in this book. The tales are rollicking-wild and a really good time, but underneath there is a tenderness that makes one feel comfortably connected in the shared craziness of just being human. As the stories unfold we are pulled by the common thread of a storyteller's voice into the adventure. Just a guy and his campfire, and really nice to sit there for a while.

Catherine Morgann, Whitehorse, Yukon
By far the best book I have read in a long time! Picked it up and couldn't put it down. My wife and I read it together and got a lot of laughs. Truly is a great book.

Joe Kazulin, St Albert, Alberta
Stan Walchuk Jr is the most adventurous outdoors man I know about. He has done more than most men dream about and wish they had the nerve to actually do!

Tom Hlinka, Grande Ledge Michigan, USA
Stan Walchuk Jr's writing grabs you and draws you in. His insights and reverence for nature are peppered with humor. I felt like I was seeing through his eyes and feeling his thoughts as he recreates his adventures. His connection to the wilderness motivates me to explore!

Janine Woehl, Sarnia, Ontario
His writing style made me feel like a fly on his shoulder. Close enough to hear his thoughts, but light enough not to skew his vision as he made his way through amazing adventures! Indeed an ordinary man who has lived……is living, an extraordinary life.

Lenox Neher, Pritchard, BC
Just read the 'Charge Me Again' chapter and it was like living the experience in the wilderness. You can really feel the tension, see the willows fold in front of your eyes, don't know what happens in the next seconds. In the author's chapter preview he says – In our areas of growing numbers of aggressive grizzlies you may need to carry it all – a big gun, bear spray, and extra undershorts. Some readers might need extra undershorts just reading the chapter.

Daniel Erhard, Krumbach, Germany.
I was inspired by this book written by someone who truly lives and breathes the wilderness lifestyle so abundant in Canada. I enjoyed reading about all of the wonderful, wild, crazy and funny adventures encountered over the years. It is a well written easy to read book and the kind of book you just can't put down. People who enjoy the beauty and solitude of the outdoors will appreciate the dedication it has taken the author to continue doing what he does so well. Maori Proverb – "While food provides the blood in our veins, our health is drawn from the land."

Katy Sowman, Wellington, New Zealand
Cool book! What others only dream of Walchuk just does. His very descriptive writing style makes you feel like you are in the middle of it all. I took a Blue Creek Horse Program a while back and found him to be an expert horse whisperer with a lifetime of experience. When he shares his knowledge it is time to listen!

Christian Duhme, Vancouver, BC
I have often looked at old black and white photographs and wondered about the important details of that moment, what events and characters made that moment worthy. Stan Walchuk Jr's stories in Common Man, Uncommon Life brings out those details of the moment, what is lost to those who cannot be there, the important memories of those great experiences. Truly noteworthy and a very good read.

Chuck Cannon, Williamsford, Ontario